Living in Jacksboro, TX has a few benefits, one of which is that FM 4 actually has its northern terminus just outside our city limits. For those of you that are not familiar with FM 4, it actually is quite scenic and has varied terrain.
As you head south of Jacksboro, the road has a few bends and even winds over a few hills heading toward Graford, TX. After a brief overlapping jaunt thru Graford, you head south again towards Palo Pinto...keeping an eye out for Historic Markers...and deer! The Palo Pinto area was the original starting point for legendary people such as Charles Goodnight.
Occasionally, my son and I get a chance to ride together. It is the highlight of my life to get to spend time with him doing something that a dad and son should do together. And yes, he does wear a helmet at all times, we usually pull off the gear when we stop to take pictures.
After you get to Palo Pinto, the riding gets really good. For those of you who think Texas is flat, this little ride will surprise you as you wind down the narrow twisting road for a few miles heading into the Brazos River basin. You will go thru places like Santo, and with a few turns off of FM 4, the village of Brazos, among other places, like Possum Kingdom Lake, or Lake Palo Pinto are nearby.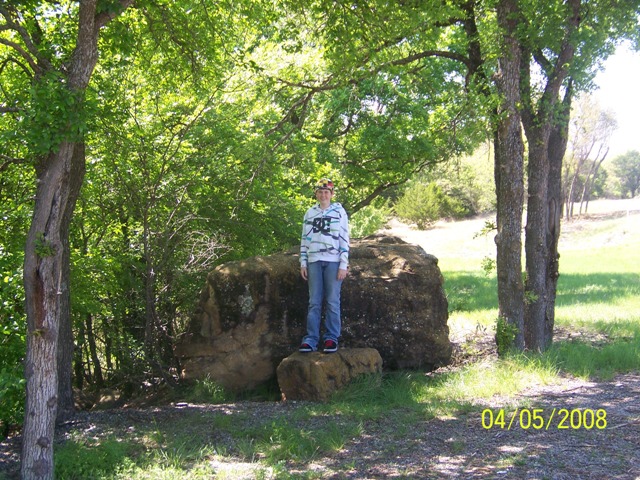 There are a few turnouts as you drop down out of Palo Pinto, and depending on the time of the year, it can be a very pleasant colorful drive. Just drive carefully, I did round a corner to have a tractor with a large farm implement taking up the whole road. Fortunately, I was driving slow, but what if???
If you stay on FM 4 you will cross TX 281 near Lipan, Texas and eventually end up in Cleburne, Tx. FM 4 is a great little highway to spend a day riding.. stop along the way and eat a meal, and next time, choose a different place to eat. There are plenty of places to choose from. No wonder it has been chosen as a favorite by Ride Texas Magazine readers more than once!
Of course we do ride to other places, recently, we went over to Fort Belknap.
Fort Belknap was at one time one of the western most outposts, and a major stop along the way to California during Gold Rush. This fort is in excellent condition, and admission onto the grounds is free. I commend the caretakers for providing such good care to a piece of Texas history!
In fact, Texas has many state parks, several were Forts during the time of western expansion. These places provided settlers with a little security during hostile times. In our own town of Jacksboro, we have Fort Richardson. It is also a very nice park, in this case a state park, admission fees are required, but there are excellent camping facilities, fishing and lots of history if you are interested.